Future Goals™ in the Community
Nashville Field Day
In Fall 2022, middle school students from John Early Middle School, actively engaged in Future Goals Hockey Scholar™, Character Playbook, & Actions Matter, were treated to a unique Field Day. This event, hosted by the Nashville Predators, Tennessee Titans, and Nashville FC, brought STEM education, social and emotional learning, and character development lessons to life through sports. The day served as a vivid demonstration of how these key educational concepts can be integrated into sports and everyday activities.
Ice Lynd
Students from Ottawa school districts had a unique opportunity to interact with Aaron Robinson, Director of Fan and Community Development at the Ottawa Senators, and Chris Neil, a former Senator and entrepreneur. The event centered around a Q&A session, where Neil shared insights about Ice Lynd, his recently developed five-kilometre skating loop and outdoor rink.
The students, armed with their pre-submitted questions, gained valuable knowledge about the intersection of sports and community development. This engaging session successfully bridged the gap between sports enthusiasts and the real-world application of sports infrastructure development.
Inside Climate Pledge Area
Dive into an exclusive virtual exploration of Climate Pledge Arena. This event provided students with a unique perspective on the arena's advanced sustainability efforts, emphasizing the pivotal role of STEM in shaping a sustainable future.
The event was further enriched by a Q&A with Everett Fitzhugh, a groundbreaking broadcaster for the Seattle Kraken. Fitzhugh recounted his inspiring journey, highlighting the challenges he's surmounted within the NHL. This video is a compelling tribute to the transformative power of STEM and the significance of tenacity in breaking down barriers.
Virtual Women in STEAM Panel
Teachers and students virtually joined representatives from the Colorado Avalanche, Dallas Stars, Minnesota Wild and St. Louis Blues for a 50-minute panel discussion + Q&A celebrating Women's History Month!  Students from schools across North America logged on to hear from an All-Star lineup of guests discuss their careers, game-day responsibilities, and how they got into their line of work! 
Virtual Edmonton Oilers Vital Signs
On Thursday, February 23d, the Edmonton Oilers hosted the second iteration of the Virtual Vital Signs Event!
Former Oilers Player and current broadcaster, Jason Strudwick, hosted the event alongside Terrance Wold, Student Trainer with a special guest appearance by the team mascot, Hunter!
Jason and Terrance brought the students through a series of exercises to teach them about heart rate and the science behind hockey. 56
Seattle Pi Day
In March 2023, James Madison Middle School hosted a Women's History Month and Pi Day event, promoting STEM careers. Esteemed guests included Nick Beatty from Electronic Arts, Tina Nagel from Seattle Kraken, and Aliya Schenck from Seattle Seahawks.
The 8th-grade Math Empowerment class engaged with these professionals, gaining insights on STEAM representation. The event featured an interactive Q&A, and video testimonials discussing the alignment of the event's activities with STEAM education and career development.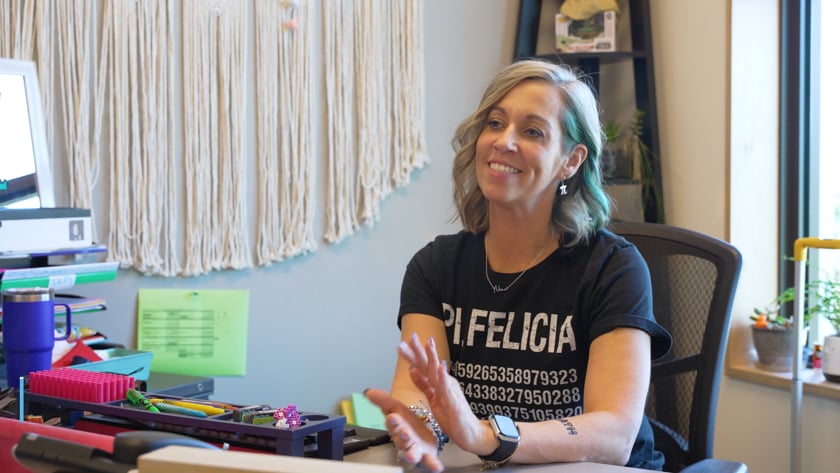 Calgary Flames Arena Tour
During the winter of 2023, Riverside students and teachers embarked on an enlightening field trip to the Scotiabank Saddledome. They explored the intersection of STEM and sports, interacting with notable members of the Calgary Flames team, including Mason Raymond, Coach Darryl Sutter, Flames TV Host Brendan Parker, and Canadian Olympic Gold Medalist Rebecca Johnston.  
This unique experience highlighted the integral role of science and math in sports-related professions, demonstrating how STEM principles come to life in the dynamic world of sports. The event successfully engaged students and inspired a deeper appreciation for the relevance of STEM in our everyday lives. 
Most Valuable
Teacher Program sponsored by SAP
Launching January 2023!
On January 1, 2023, we will relaunch the MVT Program sponsored by SAP! The MVT Program helps to recognize the top teachers involved with the Future Goals program through the months of January, February, and March. The finalist is announced during Teacher Appreciation Week in May, and awarded up to $30,000 in grants to go towards their school! Learn more about the program by clicking below. 
Family Resource Center
Launched November 1, 2021!
We encourage all students, parents and teachers to access our newly released Family Resource Center. Select your local NHL Club's logo, and find activities, experiments, challenges and more related to the Future GoalsTM digital resource that you can do at home.
Stay Connected
Sign up to receive news and offers from the NHL and its Member Clubs.